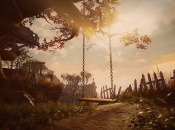 Time to get cooking.
The time has finally come for this month's PS Plus games to go live. May's duo of PlayStation 4 titles include What Remains of Edith Finch, a sombre but brilliant narrative adventure, and Overcooked, a madcap co-op game about working together in the kitchen.
We'd say both are worth your time if you've yet to give them a try. They're available to download now in Europe, while North America will catch up in a couple of hours. Are you eager to try these PlayStation Plus games, or are you left a little disappointed? Cook up some tasty comments below.
Read the full article on pushsquare.com