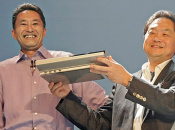 We're going to miss this.
Sony may be skipping E3 2019, and there's currently no word on whether it will ever return to the event, but we'll forever have our memories of PlayStation press conferences and no one can take them away. Because we have a quota of headlines with "Sony" and "E3" in them to fill today, allow us to republish this video we made a few years ago.
What's your favourite PlayStation press conference memory? This author's particularly fond of that price announcement from the first ever show, but the Holy Trifecta™ surely ranks fairly highly – even if two of the three titles aren't even out yet. It's been an epic 24 year ride, but all good things must come to an end – perhaps.
Read the full article on pushsquare.com