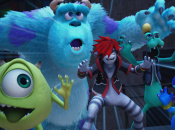 Source: PushSquare: http://www.pushsquare.com/news/2019/10/latest_eu_playstation_store_weekend_sale_discounts_anime_f1_and_ea_titles
Kingdom Hearts slashed in price.
The European PlayStation Store weekend offer is back over the next couple of days, offering reasonable discounts on a number of different games. Lasting through until 23:59 on Monday 28th October, you'll be able to get anime titles, F1 2019, and a handful of EA games at a cheaper price.
Codemasters must really want you to get behind the wheel of F1 2019 because both versions have been cut in price. The standard edition is down to £31.34 while the Legends version comes in at £36.39. Elsewhere, Kingdom Hearts III can be purchased for £32.99 or in a complete bundle with every other entry in the franchise for £53.99. A Way Out can be snapped up for £11.99, Battlefield V at £19.99, and Team Sonic Racing for £24.99.
Read the full article on pushsquare.com