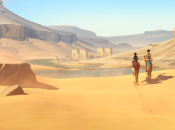 Source: PushSquare: http://www.pushsquare.com/news/2019/12/in_the_valley_of_gods_development_put_on_hold_as_half-life_alyx_takes_priority
Team spread across many Valve projects.
For the past couple of weeks, Campo Santo fans have been worried about the development of the studio's follow-up to Firewatch, titled In the Valley of Gods. Various members of the team took the game out of their Twitter bios, and combined with the fact that not a single word had been heard of the project for a suspiciously long time, people feared that bad news was incoming. Unfortunately, that has been realised as the development of In the Valley of Gods has been put "on hold".
Speaking with Polygon, co-founder Jake Rodkin confirms that the team has split up to work on various projects at Valve, including Half-Life: Alyx. "As we integrated ourselves into Valve it became clear there was a lot of valuable work to be done on Half-Life: Alyx. Some of us starting lending a hand, and have since become full-time on the project as it approaches launch."
Read the full article on pushsquare.com