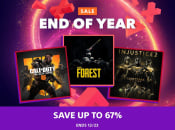 Source: PushSquare: http://www.pushsquare.com/news/2019/12/huge_savings_on_us_ps_store_will_sort_out_your_xmas_gaming
Festive cheer.
Looking for something new to play over the festive break? Sony's matched Europe's new Christmas Sale with some End of Year offers for the United States, all of which are scheduled to run until 23 December at 8AM Pacific. The deals – which run up to 67 per cent off – span titles such as Dead Cells ($16.74), Everybody's Golf ($8.99), and Fallout 4 ($8.99).
If you haven't played it yet, Metal Gear Solid V: The Definitive Experience is an absolute steal at $7.99, while we'd strongly recommend nabbing Mortal Kombat X at $5.99. Resogun is a snip at $3.74, and honestly The Order: 1886 is value for money at $4.99 – that's pocket change for a short but flawed game.
Read the full article on pushsquare.com