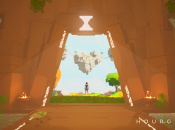 And it could come to PS4.
Remember Ratchet & Clank: A Crack in Time? The PlayStation 3 action platformer had a subset of levels featuring the metallic sidekick, in which you recorded copies of yourself to help get through various puzzle rooms. If you wanted a whole game of these time-twisting puzzles, you might want to keep an eye on Hourglass.
Hourglass is a first person puzzle adventure being made by a team of just two. Inspired by the likes of The Witness, Portal, and RiME, it's set in a mysterious, alternate version of ancient Egypt. You play as Aywa, the daughter of an archaeologist that went missing on his last expedition. She discovers ancient technologies hidden within the Egyptian temples, and it becomes your quest to unravel the mystery.
Read the full article on pushsquare.com
http://www.pushsquare.com/news/2019/08/hourglass_is_a_first_person_puzzler_inspired_by_the_witness_and_rime