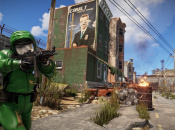 Source: PushSquare: http://www.pushsquare.com/news/2019/11/hopefully_rust_wont_be_bust_when_it_launches_on_ps4_next_year
Popular PC survival time making the jump.
Online survival games don't have the best track record when it comes to competent console conversions, but let's hope that Rust bucks this sorry trend. Due out on the PlayStation 4 next year after becoming something of a phenomenon on PC, the release will see you attempting to stay alive in a world where "everything wants you dead".
"Conquer thirst and hunger, battle the elements, create clothing, and stay safe against hostile forces including other players, scientists, bears, wolves, or even succumb to fire, drowning, or radiation poisoning," the press release reads. "A game without rules, Rust doesn't tell its inhabitants what to do."
Read the full article on pushsquare.com