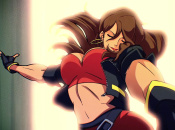 Source: PushSquare: http://www.pushsquare.com/news/2019/10/hands_on_planting_our_bare_knuckles_on_streets_of_rage_4
Axel prose.
Discard the dizzying politics, and we're truly living in the greatest timeline. Let this sink in for a minute: Shenmue III, Windjammers 2, and Streets of Rage 4 – we, as a species, simply don't deserve such riches. But feast on them we shall – gluttony is one of the seven deadly sins, but we're hungry for these retro revivals, and we're ready to dine.
With a napkin on our lap, then, let's talk about DotEmu's latest: it sees the return of roast chickens. It would appear that returning heroes Axel and Blaze still have stomachs industrially reinforced by Gaviscon, as the duo can guzzle down thrown out poultry without so much as a twinge behind their sculpted abs. This time they're joined by guitar-wielding rockstar Cherry Hunter – and one more still to be revealed.
Read the full article on pushsquare.com