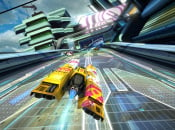 Epic gamer tips and tricks for ace pilots.
Strap on your helmet and slip into the cockpit: WipEout Omega Collection is on PlayStation Plus. Though it's not nearly as suggestive as the previous sentence may imply, it's still a damn sexy addition to the lineup, and one you should check out pronto.
If you're a pro gamer like us, you'll no doubt have conquered the PlayStation 4 racer already; beaten Zico's times, reached Zone 1 Billion, and crushed all comers online. However, not all of us can be the best of the best. Some of you may have never fired a Quake, or barrel rolled through the air like a metal dolphin. It's for these poor people we've compiled some tips to race to the front of the pack.
Read the full article on pushsquare.com
http://www.pushsquare.com/news/2019/08/guide_how_to_wipeout_omega_collection