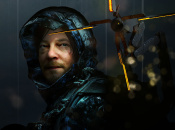 Source: PushSquare: http://www.pushsquare.com/news/2019/11/guide_death_stranding_beginners_guide_-_hints_tips_and_tricks
Helpful advice for rookie Porters.
Death Stranding is a weird game. Full of systems, mechanics, and features, the PlayStation 4 console exclusive is unlike anything you've played in the past. That's a good thing, but it also means that it's going to take some time before you've got everything it asks of you fully figured out. We want you to experience that for yourself, but here are some hints, tips, and tricks to get you started. In this guide, we're going to give you some pointers that will aid you in building structures, highlighting important items, and what you shouldn't worry about in Death Stranding.
Death Stranding – Basic Information
Here are some basic details about Death Stranding that will give you a helping hand with its controls, traversal, and combat.
Read the full article on pushsquare.com