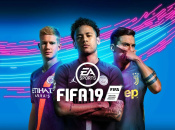 Ronaldo removed from cover.
Europe's premier club competition the Champions League resumes next week, and FIFA 19 has been given a facelift to celebrate. However, the soccer simulation will move forward without Cristiano Ronaldo on its cover, as the Juventus striker's been replaced by an image of Brazilian forward Neymar, who's flanked by Kevin de Bruyne and Paulo Dybala.
The game's already been completely rebranded on the PlayStation Store, with every version of the release featuring the updated icon – including the PlayStation 3's outdated Legacy Edition. It's probably the most work EA's invested into the last-gen iteration.
Read the full article on pushsquare.com