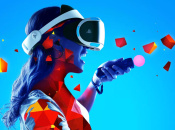 Source: PushSquare: http://www.pushsquare.com/news/2019/12/feature_psvr_had_a_great_start_but_its_time_to_up_the_ante
How can PSVR improve in 2020 and beyond?
PlayStation VR was introduced to the world just over three years ago, and it brought the tech to the masses. Oculus Rift got the ball rolling on PC, of course, but it was with Sony's cheaper, more accessible headset that virtual reality became something attainable for everyone. It's for these reasons that PSVR now leads the market despite new competitors and advancing technology. The blue-glowing headgear ends the decade on a high note, then — but where should it go from here?
One of the most important aspects of any virtual reality device is the software, and this is an area in which PSVR could have the upper hand. There are exclusive games on Sony's headgear and likewise with its PC competitors, but PlayStation's ace in the hole is Worldwide Studios. Some of the best virtual reality games have come from first-party teams. Astro Bot Rescue Mission is one of VR's defining games regardless of platform, and Blood & Truth is a fantastic example of a high-budget action experience not possible on a flat display.
Read the full article on pushsquare.com