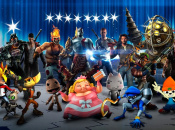 Source: PushSquare: http://www.pushsquare.com/news/2020/01/feature_dreaming_up_sonys_own_playstation_theme_park
For the thrill seekers.
Nintendo recently revealed its very own theme park area to the world, dubbed Super Nintendo World at Universal Studios Japan. And, while Push Square is quite clearly a website focused on all things PlayStation, we'd be lying if we said we didn't want to go. In fact, we sort of desperately want to join our friends at Nintendo Life in a visit to the park. It looks incredible, but if Sony were to do the same, what would it look like? Which PlayStation mascots would the Japanese giant use to promote its rides? Who would oversee the restaurants or provide entertainment after hours? These are the questions we need answering, so let's hypothesise what a Super PlayStation World would look like for a moment or two.
The Roller Coasters – Spider-Man, Nathan Drake, and Gran Turismo Get the Blood Pumping
Let's be honest, if you're visiting a theme park and you're above the age of 13 then you're heading straight for the roller coasters. The pride and joy of any respected fairground, they tower above the rest of the rides with plenty of vertical loops, corkscrews, and zero-g rolls. So, Super PlayStation World needs a speedy roller coaster to draw in the crowds and an iconic character to advertise it. Is there anyone better at doing that than Spider-Man? We think not. The PlayStation 4 Marvel's Spider-Man can take a step into the real world with what we reckon could be a flying coaster — similar to what you'd see at Alton Towers with Air, or now known as the VR experience Galactica.
Read the full article on pushsquare.com