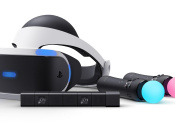 The games, the headset, and the memories.
PlayStation VR turns two years old today. Hip hip hooray! With over three million headsets out in the wild and more than 22 million software purchases to accompany them, it's fair to say that Sony's virtual reality gamble has more than paid off. The headset continues to receive one unforgettable experience after another, with 2018 alone boasting about the likes of the speedy Sprint Vector, the lovely and adorable adventure of Moss, and of course, the peripheral's best game yet, Astro Bot Rescue Mission. There's already a gigantic pool of quality titles to choose from for those jumping in for the first time, and when you take a peak at what's coming in the near future, things just keep on getting better. PSVR is here to stay.
To mark today's occasion, we've quizzed Push Square's editorial team and pool of contributors on what their first experiences with PSVR were like, the games that have stuck with them, and what they're looking forward to next.
Read the full article on pushsquare.com
Source/ Readmore at PushSquare http://www.pushsquare.com/news/2018/10/feature_celebrating_playstation_vrs_second_anniversary