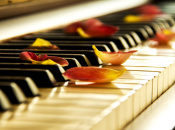 The piano knows something I don't know.
The big guns came out swinging this month, as the most noteworthy games for October include multiple blockbusters, including (obviously) one of the most anticipated games in arguably the history of the medium. And these titles of course brought with them some absolutely incredible music. So without further ado, let's hop in!
Rockstar's previous entry in this series pretty much never left the public eye after launching to pretty much unanimous acclaim eight years ago. So it's not terribly shocking just how good the follow-up is. The previous game had an excellent soundtrack, and the same holds true this time around. The soundtrack has recruited an intense number of different groups and voice to contribute the music to this monstrous title. We put up an article about this stunning variety recently as a matter of fact, and you can find out a little more about the game's ensemble of musicians here. But the brunt of the score is still handled by Woody Jackson, who worked on the score for Red Dead 1 as well.
Read the full article on pushsquare.com
Source/ Readmore at PushSquare http://www.pushsquare.com/news/2018/11/feature_best_ps4_music_of_october_2018