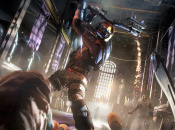 Source: PushSquare: http://www.pushsquare.com/news/2019/11/dying_light_2_release_window_not_narrowed_to_june_2020
Clashing with E3?
Update: GamesIndustry.biz has now updated its interview with Koch Media's CEO, removing a reference to a Dying Light 2 release date of June 2020. It now simply reads: "It's distributing Dying Light 2 when it launches next year." Because of that, the game is now still slated for a Spring 2020 launch.
---
Original Story: Dying Light 2 is very much on course to hit its Spring 2020 launch window, we learnt as much during our EGX 2019 interview with lead game designer Tymon Smektala, but it looks like that date has just been narrowed even further. The game is supposedly planning on releasing in the month of June 2020.
Read the full article on pushsquare.com