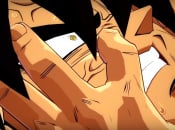 Source: PushSquare: http://www.pushsquare.com/news/2019/11/dragon_ball_fighterz_perfectly_captures_dbs_brolys_fury_in_first_gameplay_trailer
Pure muscle.
Broly (from Dragon Ball Super) is the next DLC character coming to Dragon Ball FighterZ, and he just can't contain his own power. As evidenced by his gameplay trailer, which we've embedded above, the title clearly does an outstanding job of capturing the beast at his explosive best.
Sadly, there's still no date attached to Broly, even though he was first announced months and months ago. Surely he can't be far away.
Read the full article on pushsquare.com