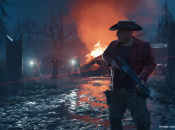 Ambush Camp Rush available now.
Another week is tiptoeing towards its conclusion, and that means Days Gone's fourth free challenge map is out now. Named the Ambush Camp Rush, it's based upon a mission from the main campaign – but now there's a timer and sub-objectives to complete. As always, leaderboards will allow you to compare your score against your pals.
There are some tips for excelling at this challenge on the PlayStation Blog, so they're well worth reading through. What's your best score so far? Let us know in the comments section below.
Read the full article on pushsquare.com
http://www.pushsquare.com/news/2019/07/days_gone_reloads_with_fourth_free_challenge_map