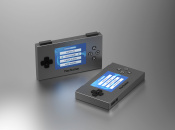 Source: PushSquare: http://www.pushsquare.com/news/2019/12/dont_worry_this_isnt_what_the_ps5_controller_will_look_like
Another interesting Sony patent surfaces.
What the heck is that thing? Surely that's not Sony's final design for the PlayStation 5 controller? Well, you can rest easy — this is something else entirely. We already know that the DualShock 5 will look pretty much the same as the PS4 controller, so where does this crazy device come into play?
It's another recent patent from Sony Interactive Entertainment, as discovered by the ever-vigilant LetsGoDigital. The above image is a 3D render based on the sketches within the patent document, but as the tech site itself admits, this is unlikely to be a final design. What's more interesting is the functionality of this device.
Read the full article on pushsquare.com