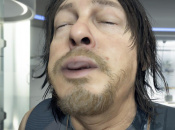 What does Sam get up to in his down time?
As promised, Kojima Productions has gone ham on Tokyo Game Show 2019. A couple of days ago, Hideo Kojima guided us through nearly an hour of Death Stranding gameplay, finally showing off what we'll be doing while we're out in the open world. However, that's not all — the designer has just wrapped up a second showing of the game, and this one focuses on the Safe House.
Once protagonist Sam reaches one of these secure facilities, he's able to recharge in a private room. The demonstration, which you can watch above, shows what you can do while in this area. It seems part of it is winding down; after a tough mission, Sam can let loose with some silly emotes — including pulling silly faces in the mirror and striking poses on the bed. Why not?
Read the full article on pushsquare.com
http://www.pushsquare.com/news/2019/09/second_death_stranding_gameplay_demo_is_all_about_customisation_and_pulling_faces_in_the_mirror