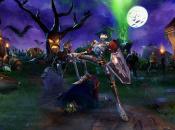 Source: PushSquare: http://www.pushsquare.com/news/2019/11/feature_the_best_ps4_music_of_october_2019
Jam packed.
October was a busy month both for releases and game music in general. Let's dive in with five of PlayStation 4's best soundtracks of last month.
Kicking things off, we have yet another score from Push Square's favourite, Austin Wintory. Is anyone keeping count? This must be his tenth time on these lists this year! This time, the intriguing score accompanies the equally intriguing adventure from developer A Brave Plan, helping to add an extra layer of mystery to the whole affair. The end result comes off feeling like a post-rock album, and it's fascinating to behold.
Read the full article on pushsquare.com