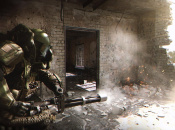 For those who pre-ordered.
If you're so excited for Call of Duty: Modern Warfare that you've already placed a pre-order at participating retailers, then the game's beta is available for you to pre-load on PlayStation 4 right now. Head on over to the PlayStation Store and you can get the download going.
Coming in at 28.4 GB, it's a hefty slice of the game that'll give you access to the close-quarters 2v2 Gunfight mode, 6v6 multiplayer rounds, and a meeting with the Gunsmith. We came away impressed from the game's alpha, which gave us a test of what to expect from the new Gunfight mode, so we're looking forward to jumping back in to see what else multiplayer has to offer.
Read the full article on pushsquare.com
http://www.pushsquare.com/news/2019/09/call_of_duty_modern_warfare_beta_is_available_for_pre-load_on_ps4_now