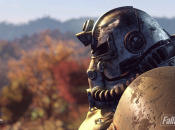 Pay full-price to give help and advice.
Fallout 76 releases next month, and Bethesda's already filled its pants. The publisher seems terrified of the reception to its online-based apocalyptic adventure, so much so that it's written a letter to fans effectively telling them that it's going to be broken beyond belief. In the honest and frank social media message, it warned of "spectacular issues" and said it needed "help" finding bugs. The letter even goes so far as to say that it requires "advice on what's important to fix".
Frankly it's a bizarre piece of correspondence. We understand that the game's scale is unprecedented for the franchise, but is this really acceptable for a title that will be sold full-price as soon as next month? There's still a beta to come on the PlayStation 4, but early impressions from the Xbox One X version are awful – and the company has even acknowledged that "performance needs to improve". It says it'll "address all of it, now and after launch". Hmm.
Read the full article on pushsquare.com
Source/ Readmore at PushSquare http://www.pushsquare.com/news/2018/10/bethesda_warns_of_spectacular_fallout_76_issues_promises_to_fix_them